General Casting Epoxy Resin
FULL SATISFACTION GUARANTEED!!
Crystal Clear Casting Epoxy Resin:
Suitable for most crafts and hobby projects such as Jewelry Casting, River Tables, Canvas Painting and Coins casting purposes etc. It comes in two parts - Resin & Hardener. These two parts MUST be mixed in precise ratio and mixed well to get best results.
Note: Make sure to store the epoxy resin jugs away from direct sunlight at room temperature around 20 to 22 deg C. Keep your project at room temperature so that the project surface is not too cold before pouring epoxy on it.


Features:
Crystal clear, high gloss and transparent, yellow resistant
Automatic leveling and anti-foaming
Low set-to-touch and cure time
Goes well with pigments of all colors
Non toxic, low odor and low VOC
High hardness after drying
Glossy like mirror

Technical Specifications:
Ratio A to B: 2.7 to 1 (by volume) OR 3 to 1 (by weight)
Pot Life: 30 min
Coverage: 1" thickness for 1 sq ft area needs about 2.5 L of epoxy (Part A + B)
Set to touch time: 12-14 hrs
Curing Time: 20 - 24 hrs (varies based on ambient temp / humidity / thickness)
Surface ready to use time: 72 hrs

Directions:
Step 1: Wear safety glasses and gloves. Measure 2.7 parts of part A and 1 part of part B by volume (OR 3 to 1 by weight). Mix thoroughly.

Step 2: On porous objects such as made out of wood, paint a seal coat of same epoxy mixture of A & B first to seal any pores to prevent air bubbles from forming.

Step 3: Make sure the surface area is horizontal to the ground and leveled. Pour the epoxy on the surface all the way through the area. This epoxy self levels itself so no need to move it around with any tools. Let the epoxy fall over the edges and coat the vertical edges. The liquid epoxy that falls over the edges will form bumps and there is no need to worry about that. These can be sanded off once the epoxy is dried and cured.

Step 4: If multiple flood coats are to be applied, make sure that each flood coat is less than 1/2" thick and maintain a gap of 4 hours between each flood coat.

Step 5: Pop air bubbles using a heat gun or plumber torch.

Step 6: Leave the surface for epoxy curing
---
We Also Recommend
---
Customer Reviews
07/03/2020
Ed D.
Canada
I recommend this product
Excellent product and service- Hinton Alberta
This was my first epoxy resin project and I chose to use the slow cure epoxy, the product was very user friendly and very easy to work with. Excellent costumer service as any questions where answered via text message within minutes. I'd highly recommend Trustic to anyone and will definitely be purchasing my next batch of epoxy from them. Ed Desmarais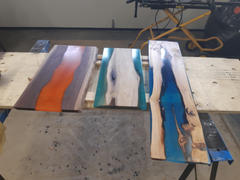 05/15/2020
Jack G.
Canada
I recommend this product
Knife handles
I am just getting started with resin epoxy casting. This is an addition to my custom knife hobby. I have cast pins and other decorative objects to improve the aesthetics of my knives. My order that I just received has been very easy to work with and I'm very pleased with it. I have ordered some silicon forms and plan on making some items of jewelry and other ornaments. I'm sending two pictures of a knife I made for a friend. It is a filleting knife with two Rapala Lures imbedded in epoxy resin. I think it turned out just great. Thanks for a super product. Jack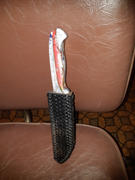 04/09/2020
Joe E.
Canada
I recommend this product
Great product
I tried this product as I was shopping for a good epoxy resin to build my counters and harvest table with. Out of the resins I've tried so far this one has been the most economical with the best results and came in a decent time frame. It hardened up nicely and with minimal bubbles. I have no problem recommending this product over the others I've tried so far. Unfortunately my project isn't finished therefor I can't upload a picture right now but may in the future. 
02/24/2020
Anonymous
Canada
02/04/2020
Mario A.
Canada